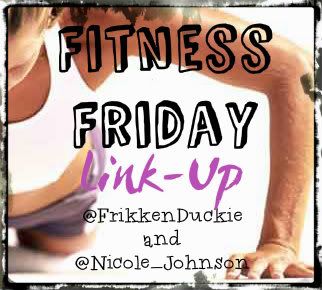 Oh haaaaaayyyy! Welcome to the very first
FITNESS FRIDAY
! This is your chance to share your weekly fitness accomplishments as well as to support other bloggers in their fitness journey!
If you've been following my blog for some time now, you'd know that I'm not the most physically fit person in the world. I don't work out consistently, I don't eat healthy, I don't even drink a lot of water. I'm the kind of girl that says "I need to work out!" but never really does. And when I do get motivation to start working out it usually fizzes out within a week or so. But not anymore!
Since last Friday's post about me slacking off (again) I worked out all weekend to try and catch up. It totally kicked my flabby ass. I mentioned in
Tuesday's post
that my butt was hurting so bad that it literally hurt to sit down - especially on a hard surface like the toilet seat!
I've been doing my best to keep up with the Bodyrock challenge this week but I also skipped a couple of workouts and substituted them for Zumba, speed walking, playing basketball with Joey, etc. I think doing any sort of physical activity is good for you. I get bored with doing the same routine or program for too long so by switching it up, I can stay active and still work towards my fitness goals doing things that I enjoy.
This weekend I plan to push myself harder as I did last weekend because it really did help me out. Because my weekdays are so crazy, I don't have as much spare time to work out as I do on weekends. Plus feeling the burn on Monday and Tuesday hurts soooo bad but makes me feel soooo good.
Does that make me masochistic?
Now it's your turn! What was your greatest fitness accomplishment this week? Did you fall behind a little? What routines/programs did you follow? Link up and let us know! Let's support each other! And please don't forget to visit and follow my wonderful fitness support team:
Nicole
and
Stephanie
!!