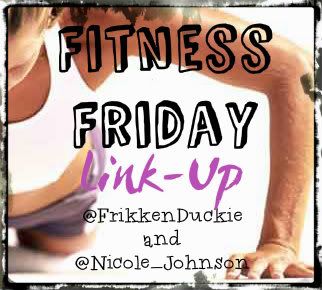 Hooray for another fitness Friday! And if you're not into the fitness thing, then hooray because its just Friday (which is "hooray" worthy in itself)!
So as you may or may not know, I
hate
running. I suck at it.
But...
Sometimes I run
.
Sometimes I hide, sometimes I'm scared of you. But all I really want is to hold you tight...
Okay, you
had
to know that was coming.
And btw I was listening to 90's songs all last night so I've got Britney Spears songs going through my brain right now.
The only time I can run is when I'm in the mood and have my earphones in and playlist on. What? You want to talk to me while we're running?
Fuhgeddaboudit!
I don't need conversation, I need motivation!
That being said, I thought I'd share just a few of the songs that are on my workout playlist. And it is no surprise my playlist title is "Werrrrrk". So here they are, in no particular order because I like to
shuffle
, ball, change it up.
Yeah, sorry for the geeky dance reference.
Song + Artist

Rompe - Daddy Yankee
Shake - Pitbull & Ying Yang Twins
Upgrade You - Beyonce ft. Jay Z
Gasolina - Daddy Yankee
Birthday Cake (remix) - Rihanna ft. Chris Brown
Pump It - Black Eyed Peas
Salt Shaker - Ying Yang Twins
Work It - Missy Elliot
Move Your Body - Beyonce
Get Up - Ciara
Shots - LMFAO ft. Lil Jon
Toma - Pitbull
Church - T-Pain
Beez in the Trap - Nicki Minaj
Run It - Chris Brown
Drop it Low - Ester Dean
The Motto - Drake
Stupid Hoe - Nicki Minaj
Whip My Hair - Willow Smith
Dance (Ass) Remix - Big Sean ft. Nicki Minaj
My Chick Bad - Ludacris
Who's that Chick - Rihanna
Run the World - Beyonce
Gimme Dat - Ciara
Lose My Breath - Destiny's Child
My Humps - Black Eyed Peas
OMG - Usher
Work - Missy Elliot
1,2 Step - Ciara
Buttons - Pussycat Dolls
Crazy In Love - Beyonce
Blow - Ke$ha
S&M - Rihanna
Single Ladies - Beyonce
Lose Control - Missy Elliot
Bottle Pop - Pussycat Dolls
Freak-a-Leek - Petey Pablo
Hey Ya! - Outkast
There it Go - Juelz Santana
Ms. New Booty - Bubba Sparx
Okay, so I showed you mine, now you show me yours! What are some tracks on your workout playlist? Link up and let's swap!
To link up and participate, write your own fitness post and add the link to the widget above!
P.S. Congratulations to
HEATHER
for winning my 100 Followers Giveaway! All those tweets she posted really paid off! Lol.