Praise the weekend gods, it's FRIDAY!!!! Cue Rebecca Black music...
Okay, seriously though. If I knew this kind of stupidity would go viral I would have posted all of my pointless, made-up, song ramblings a long time ago! I'm sure you would all have downloaded my "I'm Cooking Ramen Noodles" song as your ringtones by now.
Anyway...so since my
#icant
and
#iknowican
posts were such surprising hit last week, I've decided to combine them into one post as a kick-off to the weekend. And what better way to start the weekend with a clean slate than to account for all your fuck-ups and #icants and then kick them in the ass with a motivational list of #iknowicans!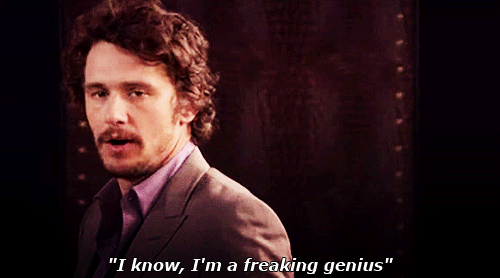 Alright, here we go. My list of #icants for this week:
#icant write about fitness this week because I still haven't gotten back in touch with fitness Jesus for the past two weeks or so.
#icant understand why it's so hard for me to get back in to college and finish my degree. C'mon Kaplan, get it together! Why the fuck do I have to talk to 7 different people and get 7 different answers!!?? I only took off for a year - it shouldn't be that hard to get me re-registered and processed.
#icant believe we've only eaten dinner at home 1 time this week. We've been busy this week (meetings, games, etc.) so I only cooked dinner once all week. It was a pretty nice spread though (shrimp scampi, dungeoness crab, and steak) so I think it made up for the fast-food, hotdogs and other junk we ate the rest of the week. I really just lacked motivation to cook this week.
#icant seem to stop ordering shit off of Poshmark. I had made a rule for myself: only buy with earnings from my sales. Unfortunately, I don't take to well to rules - especially ones I make for myself. Now I can't fit any of my new stuff into my already crammed closet and drawers because I've got too much that I either haven't listed or just haven't sold yet.
#icant get myself to do daily household chores. I tend to leave dishes in the sink until the next day, sweep only once a week, and I don't even remember the last time I dusted. I think I need to set reminders on my phone every day so that I can actually have a schedule. Or maybe just hire a maid.
So now that we're done being negative, let's shoot that shit to the curb with the #iknowican list:
#iknowican wash ALL the blankets and sheets this weekend. That giant pile of old blankets has been haunting me for weeks now and I've slowly been making progress on it. Since we bought new bed sets for everyone, the old stuff hasn't really been much of a priority but this weekend I'm going to tackle the whole mountain. Wash, fold, and store them away - so I don't have to see them again! And of course I'll get some regular laundry done too - otherwise I'll be wearing blankets and sheets to work next week.
#iknowican
get some good photos in this weekend. I'm planning on taking the kids to the Guam Head Start Children's Fitness Fair tomorrow. We went last year and the kids had a blast. There are games, health-related activities, face painting, and goody-bags for the kids. Best part: IT'S FREE!!!! Four hours of fun, healthy activities for the kids without having to pay a single penny?!
Yes, please!
Take that, Chuck-E-Cheese's!
#iknowican really paint the living room this weekend. Okay, I hope I can. I think we already have everything anyway, so it shouldn't be too hard to get it done. But then again, it all depends on what comes up (sometimes we forget that we made prior plans) and if the weather is being our friend so the paint can dry quicker and adhere better and whatnot.
#iknowican start planning for Chloe's birthday. She's not having a real party this year, just a little pizza party and treat bags in school and then cake and ice cream or something after dinner - but stuff still needs to be planned, ordered, and organized.
#iknowican get some photos edited and some posts scheduled for the upcoming month. I've got some outfit photos, family adventure photos, and other random stuff stored on my computer at home waiting to be edited and written about. I've also got a beauty box giveaway planned for next month that I need to put together and schedule, so stay tuned for details on that soon!
And that's it. I've laid my shortcomings and goals all out on the table - the blog table, that is. Now it's your turn! What were your downers this week, and what are your plans for this weekend??