Okay, so yesterday's post totally didn't happen. Sorry about that.
I drafted it and everything, but stupid me forgot my thumb drive at home with all the photos for the post so I couldn't do it. And then of course when I got home I was busy with homework, cleaning, kids, dinner, etc. By the end of the night, I was so drained out that the thought of sitting in front of the computer editing photos made me want to cry.
Annnnnd (of course) I forgot the stupid thumb drive again today because I slept too long and had to rush in the morning. All I want to do is crawl back into my bed and sleep for the rest of the day. Anybody want to cover for me? Anyone??
But, the show must go on, or some shit like that. So, here I am with no makeup, hair rolled into a bun still wet and not even brushed, still sleepy, and hungry as hell trying to get this post out for you. You're lucky I like you guys.
Soooooo, because it's been all about a fresh new look and feel around here, I thought I'd give you all a chance to get that "new new" too. Yup, start getting excited...
I'm not going to design your blog or anything like that. Hell to the no. You're on your own with that shit, buddy. I still haven't completely finished with my own blog makeover so I'm in no position to start on another project. #sorryimnotsorry
That said, I am giving away...
drumroll
...$25 to
Forever 21
!! Happy dance time, people!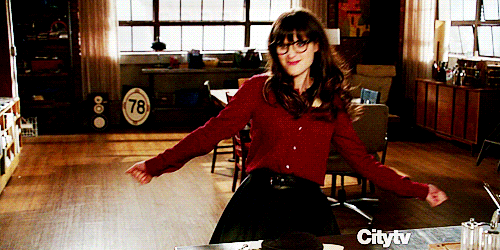 The post that was supposed to happen yesterday had a photo of an outfit I wore from Forever 21, so it was supposed to help tie the whole giveaway thing together, but, you know, shit happens so you just get New Girl gifs instead....still a win.
Oh, and in case you're wondering, that outfit photo, I already posted it. It's right there on the top left. Yeah, the profile picture of me with no feet - that's the outfit. So just shut up already. And enter.