...I didn't confess last week because...I completely forgot. By the time I remembered, it was kinda late so I said "fuck it" and just left it at that.
...Maybe it's because my Mirena is wearing off or maybe it's just the weather, but I've been having really bad cravings lately. Currently it's chocolate and pickles.
...It's the 10th day of September and I have done ZERO workouts this month. Besides my regular morning yoga routine (thanks again,
Kenzie
), I haven't had the energy or motivation to do my nightly HIIT workouts or go running or anything at all. I just printed out the September Squat Challenge calendar so going to try to at least do that when I'm not in the mood for anything else.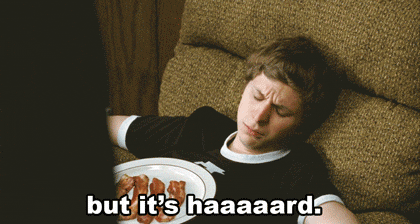 ...The house is a certifiable mess right now. The only thing I am looking forward to this weekend is CLEANING. That never happens. Ever.
...Since I mentioned weird cravings I might as well confess this too, and I'm sure that most of you will be more than a little judgy about it - I know I would be. Anyway, so last night I had a deviled egg sandwich for dinner. I was fine and satisfied until I started getting hungry again at around 9:30pm. Since I was already in bed I didn't want to go out and get something and it was too late to be cooking so I had to improvise with what we had. I didn't want another sandwich. I didn't want Pringles. I didn't want Oreos. I was craving something salty. I thought about popcorn but decided getting kernels stuck in my already aching tooth wasn't worth it. Then I spotted the container of Montreal Steak Seasoning on the counter. As soon as I saw it I just KNEW I would be shamed for it but I had to have it. I've never done crack, but I'm pretty sure what I was feeling was the same way an addict would feel. I took that container into my room, poured some into my hand, and proceeded to eat it. I know. I KNOW. I just couldn't stop myself. I felt so stupid/ashamed/disgusted doing it, but I couldn't resist it. It tasted soooo good. Like eating a steak - without the steak. It satisfied my craving completely and I was able to sleep after that, which is something a crack addict wouldn't be able to do.
Your turn to confess! GO!