It's about an hour away from Friday right now but I wanted to do a confession-type of post anyway because I do what I like. Booyah.

Sticking to a set schedule. (Obvs.) Hey, sometimes shit happens and it messes up your whole routine. You just gotta go with it. And, sometimes you're on schedule but you feel like binge-watching the entire second season of New Girl. Or taking that extra five minutes of sleep in the morning that ends up turning into 30. That's cool too.
Remembering certain things. Ask me what I had for dinner last night and I wouldn't even be able to tell you. And unless your name is tattooed on your head I probably won't remember you if I don't see or talk to you on a daily basis. However, if you ask me what I wore on the first day of school in 2nd grade I can tell you that I wore a Princess Jasmine outfit that consisted of a teal and pink t-shirt with a huge graphic of her face on it and matching teal shorts that had the Disney logo on the bottom left corner.
Keeping things tidy. I'm messy. I've always had so much stuff and have always had a messy room because of my hoarding issues. Usually my mess consists of clothes, shoes, accessories and trash associated with such things (tags, shopping bags, receipts, etc.). As of right now I have one closet, one garment rack, a shelf, a 6-drawer dresser, a shoe closet, and four baskets full of clothes, shoes and accessories. I plan to downsize soon but, you know, that means scheduling time to do it.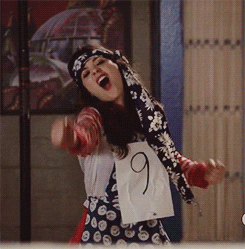 Running.
I've never been good at it, except for maybe when I was 10 and I was faster than my younger brothers and racing other kids on the playground was cool. Gonna take
Nadine's
advice and start the C25K program to hopefully lose some pounds and build endurance.
Budgeting.
I'm a spender. It's not my fault, though. I was born and raised this way. I'm the first born, first daughter, and first granddaughter (on my father's side) so I've always been spoiled. Christian Dior baby clothes, Coach shoes for everyday wear in high school, random shopping sprees "just because". Life was easy for me back then. Fast forward to adult life where I actually have to do something to get something, pay bills on time, buy food/clothes/essentials for my kids - adult life is hard as fuck. Trying to start some kind of budget plan that I can actually stick to thanks to tips from
Steph
and
Alyssa
, but they have more willpower than I do when it comes to temptation.
Your turn! What are some things you're not-so-great at?