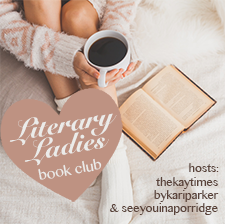 Okay, so I'm a few days late on the update, but here it is:
1. A YA book (mandatory!) - Silvern by Christina Farley
2. Non US Author (mandatory!) -
Three Daughters by Consuelo Saah Baehr
3. A book that was recommended by a blogger (mandatory!) - The Martian by Andy Weir recommended by Lisa
4. A book that has been on your TBR list for a year or more -
The Goldfinch
by Donna Tartt
5. A book with a kickass female character - Moloka'i by Alan Brennert
6. A book that is or will be a movie (or TV show) - The Perks of Being a Wallflower by Stephen Chbosky
7. A book written by a comedian or celebrity - Bossypants by Tina Fey
8. A book with a one word title -
#Girlboss
by Sophia Amouroso (reread)
9. A suspenseful book - The Atlantis Gene by AG Riddle
10. A book about Summer -
The Virgin Suicides
by Jeffrey Eugenides (reread)
I've only got three (okay, more like 1 + 2/3 + 1/4) more books to go! It's funny because I never really realized how much I've read in the past month until I crossed it off just now! I've got a little more than 100 pages to go on The Goldfinch (It's almost 800 pages long!) and then will be getting into The Virgin Suicides (a pretty easy read) and lastly, #Girlboss.
What about you? How many books have you read so far?