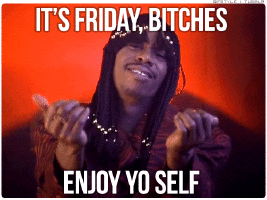 Well hello, blogland. Haven't been around here for a bit, mostly because I haven't had much to say but I wanted to post something fun and pull myself out of the creative slump I've been in lately. So, without further ado, here are my current faves...
Favorite Song:
Rihanna's ANTI, Beyonce's LEMONADE, and Jhene Aiko & Big Sean's TWENTY88 are the three albums that have been on repeat for me over the past few months. 'Love On the Brain' by Rihanna is one of my absolute favorite songs on her album and I love her live version as well. Such an amazingly soulful song that I sing at the top of my lungs as often as I can. Maybe I'll Snap me singing it this weekend...
Favorite Food:

Eggs and anything. Since I'm wheat-free, I eat eggs wayyyyyyy more than I used to.
Favorite App:
The Gif Keyboard by Riffsy is basically how my sister and I communicate now. It's so much more fun to respond in gifs than emojis.
Favorite Purchases:
For my birthday, Joey bought me some items I'd been wanting from
Wonderland Honolulu
. It's a small boutique, which originally started out as an Etsy shop and the pieces are basic and minimal yet super chic and sexy and oh so comfortable. I had purchased a few dresses before and immediately fell in love with the brand and now I'm slowly trying to build my Wonderland Honolulu collection. I want it ALL! Here's what I got for my birthday:
Favorite Funnies:
Btw, how is everyone? I'm slowly catching up on blog reading but I've been so disconnected lately that it's going to take a while to get through. And, it also probably won't happen this weekend because OINTB. #sorrynotsorry.

Happy Friday!