February was a good book month for me. Being sick in the beginning of the month meant a lot of time spent curled up in bed with a book. I also bought a few real books too because I missed the feel of having an actual book in my hands. Ebooks are great and so convenient, but there's no comparison to holding, reading and smelling a real book in your hands. And, since I'm still clearing out instead of collecting, my books are being housed in my office's conference room so that other people can read them and add their books to the collection as well. It's like our own little office library - that has nothing to do with law books.
Sisters One, Two, Three, by Nancy Star
Description from Amazon:
"After a tragic accident on Martha's Vineyard, keeping secrets becomes a way of life for the Tangle family. With memories locked away, the sisters take divergent paths. Callie disappears, Mimi keeps so busy she has no time to think, and Ginger develops a lifelong aversion to risk that threatens the relationships she holds most dear.
When a whispered comment overheard by her rebellious teenage daughter forces Ginger to reveal a long-held family secret, the Tangles' carefully constructed web of lies begins to unravel. Upon the death of Glory, the family's colorful matriarch, and the return of long-estranged Callie, Ginger resolves to return to Martha's Vineyard and piece together what really happened on that calamitous day when a shadow fell over four sun-kissed siblings playing at the shore. Along with Ginger's newfound understanding come the keys to reconciliation: with her mother, with her sisters, and with her daughter.
At turns heartbreaking, humorous, and hopeful, Sisters One, Two, Three explores not only the consequences of secrets—even secrets kept out of love—but also the courage it takes to speak the truth, to forgive, and to let go."
I loved this book because of all the unexpected twists and secrets uncovered! Ginger was a very annoying character, so much so that I wanted to punch her in the face sometimes because of her constant worrying about every little thing. Her sister Mimi was also annoying, trying to force people to do things her way. Basically, I wanted to punch almost all of the characters at one point or another, but I realized that's how family is - you want to punch them in the face but you can't help but love them in the end. The secrets in this book are so crazy that it's hard to understand how nobody knew the truth, but the major events happened in the '70's and that was a different time, when people weren't so open about tragedy and kept family matters quiet. Definitely a good book to read if you like a story with a lot of unexpected twists!




A Stolen Life, by Jaycee Dugard
Description from Amazon:
"In the summer of 1991 I was a normal kid. I did normal things. I had friends and a mother who loved me. I was just like you. Until the day my life was stolen.
For eighteen years I was a prisoner. I was an object for someone to use and abuse.
For eighteen years I was not allowed to speak my own name. I became a mother and was forced to be a sister. For eighteen years I survived an impossible situation.
On August 26, 2009, I took my name back. My name is Jaycee Lee Dugard. I don't think of myself as a victim. I survived.
A Stolen Life is my story—in my own words, in my own way, exactly as I remember it."
This book gave me goosebumps at some parts and I literally had to take a break from the book once or twice because of the graphic retelling of her experiences. Whether you're a parent or not, you really can't read through this thing without getting goosebumps or chills down your spine. How she was able to survive for so long in those conditions I'll never know. I'm so glad that the Garridos are behind bars and will remain there for a LONG time. The death penalty would have been better, but that's just my opinion.
Description from Amazon:
"Her name was Henrietta Lacks, but scientists know her as HeLa. She was a poor black tobacco farmer whose cells—taken without her knowledge in 1951—became one of the most important tools in medicine, vital for developing the polio vaccine, cloning, gene mapping, and more. Henrietta's cells have been bought and sold by the billions, yet she remains virtually unknown, and her family can't afford health insurance. This phenomenal New York Times bestseller tells a riveting story of the collision between ethics, race, and medicine; of scientific discovery and faith healing; and of a daughter consumed with questions about the mother she never knew."
By far one of the most unexpectedly amazing books I've ever read. I've had this book for quite some time but never got around to reading it partially because it had been buried under a bunch of crap on my nightstand, but mostly because I was intimidated by it since it is listed as a non-fiction book about science. Science and math have never been my jam so I wasn't excited to read a boring book about the history of some cells. YOU GUYS. I was SO wrong about this book. Though it is listed as non-fiction, the author did such an amazing job and wrote it in the first person in a way that it reads like fiction. The characters in the book are actual people and the author portrays them honestly which makes them so relateable. Learning about the HeLa cells and the scientific breakthroughs they caused was not confusing or frustrating at all because the author broke it down in a way that was easily understandable. The end of this book had me wanting to learn even MORE about the HeLa cells, DNA, tissue rights and the Henrietta Lacks Foundation.
Neon Soul, by Alexandra Elle
**A copy of this book has been generously provided to me by NetGalley in exchange for an honest review.**
Description from NetGalley:
"In short, powerful verses, Alexandra Elle shares a hard-won message of hope.

Alexandra Elle writes frankly about her experience as a young, single mother while she celebrates her triumph over adversity and promotes resilience and self-care in her readers. This book of all-new poems from the beloved author of Words From A Wanderer and Love In My Language is a quotable companion on the road to healing."
It has been so long since I've read a book of poetry and this book was exactly what I needed. I've followed the author on Instagram for quite some time now and the images, affirmations, poems and quotes in her feed always inspire me to write, spread love and take action. I haven't read her first two collections but after reading this one, I'm definitely planning on getting them.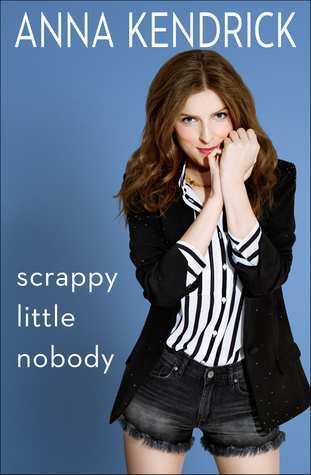 Scrappy Little Nobody, by Anna Kendrick
A hilarious autobiography by Anna Kendrick.
Celebrity autobiographies are always so fun to read, especially if that celebrity is sarcastic, funny, and down-to-earth. Anna Kendrick is like the weird little white girl who lives up the street. She's loud, awkward and a little pushy, but you can't help rooting for her. Such a fun book that made me laugh out loud at certain parts (at which times I had to close the book because Chloe looked over and tried to read what was so funny - warning: this is not a book for minors).
Ensnared, by Rita Stradling
**A copy of this book has been generously provided to me by NetGalley in exchange for an honest review.**
Description from NetGalley:
"[This novel contains adult situations and is only suitable for readers who are 18+]
A Near Future Retelling of Beauty and the Beast
Alainn's father is not a bad man. He's a genius and an inventor. When he's hired to create the robot Rose, Alainn knows taking the money is a mistake. Rose acts like a human. She looks exactly like Alainn. But something in her comes out wrong.
To save her father from a five-year prison sentence, Alainn takes Rose's place. She says goodbye to the sun and goes to live in a tower no human is allowed to enter. She becomes the prisoner of a man no human is allowed to see.
Believing that a life of servitude lies ahead, Alainn finds a very different fate awaits her in the company of the strange, scarred recluse."
I have to admit that it took me a while to get into this book. I started reading it and it was so slow and a bit confusing through the first few chapters that it took me a couple days until the story finally picked up and got me interested. There were still a lot of parts throughout the whole thing that were confusing as hell and could have been omitted from the book altogether because it didn't add to the story and most of the time it was hard to visualize the scenes and characters, but all in all it was an interesting read for me.
I Love My Love, by Reyna Biddy
**A copy of this book has been generously provided to me by NetGalley in exchange for an honest review.**
Description from NetGalley:
"In short, poignant verses, Reyna Mays' poems explore pain, emotional reckoning, and the power of self-love.

The debut collection from 22-year-old poet Reyna Mays, I Love My Love tells the story of Reyna's childhood, her parents' toxic relationship, and how, against all odds, she learned to love herself."
Oh, how I love
I Love My Love
! Full of emotional and powerful (and some really short) poems that really resonated with me. You can feel the love, anger, self-doubt and growth that the author portrays. I loved and re-read so many of the poems contained in this book that I stopped adding bookmarks to my digital copy and decided to just buy the hard copy to keep on my nightstand. The author, Reyna Biddy, is still pretty young and finding herself and it shows in some of her poems, but I still highly recommend this to anyone who has ever felt lonely, unloved, or taken for granted.
Love & Misadventure, by Lang Leav
Description from Amazon:
"The journey from love to heartbreak to finding love again is personal yet universal. Lang Leav's evocative poetry speaks to the soul of anyone who is on this journey. Leav has an unnerving ability to see inside the hearts and minds of her readers. Her talent for translating complex emotions with astonishing simplicity has won her a cult following of devoted fans from all over the world.

Lang Leav is a poet and internationally exhibiting artist. Her work expresses the intricacies of love and loss."
I enjoyed this collection of poems but not as much as the others I've been reading lately. These poems are very short (some only two lines) and simple so if you're looking for a long, complex poem that spills emotion, you won't find it here.
Citizen, by Claudia Rankine
Description from Amazon:
"Claudia Rankine's bold new book recounts mounting racial aggressions in ongoing encounters in twenty-first-century daily life and in the media. Some of these encounters are slights, seeming slips of the tongue, and some are intentional offensives in the classroom, at the supermarket, at home, on the tennis court with Serena Williams and the soccer field with Zinedine Zidane, online, on TV-everywhere, all the time. The accumulative stresses come to bear on a person's ability to speak, perform, and stay alive. Our addressability is tied to the state of our belonging, Rankine argues, as are our assumptions and expectations of citizenship. In essay, image, and poetry, Citizen is a powerful testament to the individual and collective effects of racism in our contemporary, often named "post-race" society."
It's hard not to feel some kind of emotion after reading this book. I don't read the news, I don't follow politics or pay much attention to what's happening around the world but reading this made me realize how much I've been blind to. This author really sheds light on the things I've never noticed and opened my eyes to things that we as a society need to change. Fear, hatred, racism and oppression are real, and ignoring it or thinking it doesn't affect us and the bubble we live in only makes it harder for things to change.
Someone Always Robs the Poor
**A copy of this book has been generously provided to me by NetGalley in exchange for an honest review.**
Description From NetGalley:

"A long-awaited new collection of stories from one of Scotland's most acclaimed writers.

A young man returns from London, facing the prospect of reunion with a young daughter he's never met. A woman recounts her family's doomed attempt to emigrate from Poland to America 70 years before. A creative writing tutor is shocked by the story of one of his students, who is connected to a past atrocity in Bosnia. A former architect fights a losing battle with alcoholism and the ghosts from his past.

Here is a new collection of brilliant stories from the multi-award winning elder statesman of Scottish literature, exploring themes of poverty, migration, alienation, accountability and alcoholism, with an impressive depth and emotional range."
I didn't think I would enjoy this book as much as I did, but I absolutely loved it. I started off not liking it because I got a little confused about whether or not someone was speaking and which character was speaking because the author does not use quotation marks in his stories but once I got used to his writing style, it was so easy to look past that and really get into each story. These stories are so emotional without being overly dramatic which really surprised me because I didn't think that stories so short could be that powerful. Definitely recommend this book!!
------------------------------------
Currently Reading: